Annual UW-Madison Karate Tournament
Every fall, the Madison Japanese Karate Club holds a tournament open to traditional karate practitioners - adults above the age of 18. Our goal is to provide everyone with a fun, safe and exciting opportunity to enhance our karate training.
The 34th Annual Tournament will take place on Saturday, November 19, 2016, in Gym 4 at the SERF, 715 West Dayton Street, Madison, WI 53715. Check-in starts at 10:30, and the tournament is scheduled to start at 12:30 pm.
Location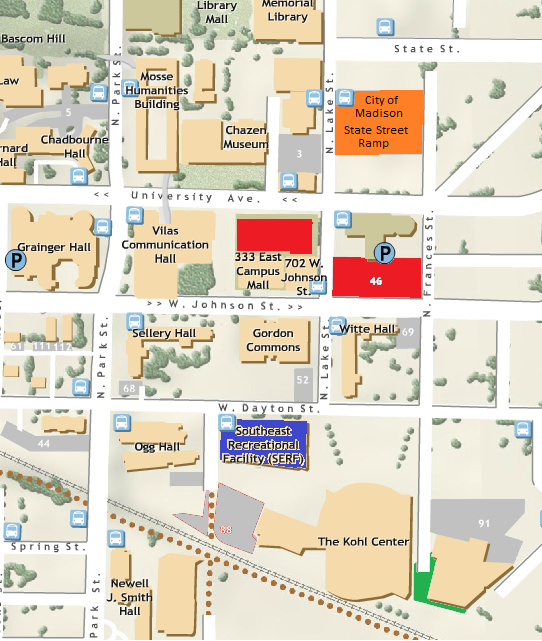 The tournament will take place at the SERF (blue). There is a small amount of usually free parking to the south west (green). The "City of Madison State Street Ramp" (orange) is usually $1.25/hour, but up to $5 maximum on weekends. There are several other parking ramps closer to the SERF (red) as well as meters along the street, but these may be more expensive.
Registration information
The registration form for the tournament is available in PDF format, or you can use the online registration form. If you use the PDF form, please print it, fill it out, and mail it by Monday, November 14th to avoid late registration fees. Online registration will be available without late registration fees until 10 pm Central Time on Wednesday, November 16nd. If you choose online registration, you will have to sign a release form when you check in.
We have divisions based on rank in the following events:
Individual kata (mixed men and women)
Individual kumite (separate men and women divisions)
Fukugo
Team kata
Team kumite
En-bu
Check in for competitors will start at 10:30 am, the referee and judges session will start at 11:00 am (competitors are welcome to participate), and the tournament will start at 12:30.
The tentative order of events will be:
Individual Kata
Team Kata
Enbu
Break
Fukugo
Individual Kumite
Team Kumite
The rank categories are determined for each tournament depending on the number of competitors with different ranks. These categories for individual events are usually:
Beginners (9 to 7 Kyu)
Intermediate (6 to 4 Kyu)
Brown Belts (3 to 1 Kyu)
Shodan
Nidan and up
The En-bu event is a two person pre-arranged encounter where an attacker and a defender demonstrate the use of karate techniques for self defense. The encounter should last for about one minute, and participants are judged on the same principles as kata.
The Fukugo event is a single elimination event where the final round is free sparring (Jiyu Kumite), and each preceding round alternates between performance of the Kitei compulsory form, and free sparring. This event is for brown and black belts only.
The participants will have the following choices of individual kumite events:
Beginners (7th kyu and below) may chose either One Time Attack or semi-free style sparring.
Participants in the Intermediate category (6th to 4th kyu) will compete in semi-free style sparring.
Brown belts and above may chose among Ko-Go kumite, Jiyu Kumite (free sparring), or both.
The Ko-Go kumite rules
are based on the WTKF rules. Please also review the
one time attack rules
.
We have pictures and videos from previous years' tournaments available on the media page. Results going back to 2000 may be found here.
We hope that you can join us again in November! Please send any questions to Mr. Peytchev.